Barcelona manager Ronald Koeman linked with the likes of defenders Lisandro Martinez and Boubacar Kamara to restore their poor profiles in the upcoming season, drawing a potential list of alternatives for Eric Garcia.
According to a reports, Barcelona has come forward to bid the Argentinian defender Lisandro Martinez from AFC Ajax and the French midfielder Boubacar Kamara from Olympique de Marseille as a subject of the winter hope for the forecoming fixtures.
The club has decided to assess for defensive reinforcements as they feel the responsibilities have to be revamped. Their recent performances have seen them concede a lot of goals and hence they want to resolve this issue and as a reason, shortlisted two youngsters who could clear out their defensive issues.
Do Martinez and Kamara serve as a potential priority in Barcelona?
The 22-year-old versatile former footballer shortlisted is a perfect fit on loan as Barcelona expected to look for because they are currently undergoing Defensive fragility, lacking a President, and don't have effective funds to pay for a transfer.
The young defender has swept with 41 appearances across all competitions and has since been utilized quite regularly by the Dutch giants. He is capable of playing for multiple positions, including the centre-back, where the Catalans are in need to fill Gerard Pique's long-term void.
Martinez's dribbling and defensive work have made Barcelona interested in signing him and they feel he is best suited for their style of play.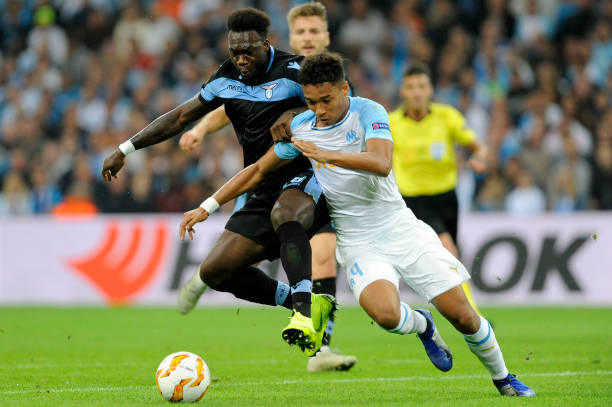 Kamara's all-rounded defensive skills have caught Barcelona's eye and they are ready to sign this Marseille defender as an additional central defense, even if Eric Garcia appears for the next summer.
The youngster is on a great pace to cement his place in the side and always remained a mainstay at the back. His progress is highly appreciated, inching a 100th appearance for the Ligue 1 outfit. Many top clubs are monitoring his development, Barcelona emerging as the first team to rival.
Ronald Koeman to look for alternatives in his defense ahead of PSG Draw?
As per Mundo Deportivo, Kamara is high on their agenda, with his valuation of around €30 million being quite appealing as well, to start a new beginning ahead of their Champions League draw with PSG.
Kamara and Martinez are modern center backs who not only defend but also provide the right type of attacking options which is why Barcelona would want to land them as they could fit their defensive needs perfectly and their talent can help strengthen their defense.
But it will be interesting to see how the transfer happens as the respective clubs won't let go of the defenders easily. Therefore Barcelona will have to offer the right transfer fee for both the defenders as the deals will involve a hefty fee and they will have to decide which players have to be offloaded as they are in a financial crisis.
Follow our Twitter page for the latest updates on English Premier League and Indian Football.