Gameweek 7 of the English Premier League saw two behemoths of English football go head to head. Manchester United hosted Arsenal in a much-anticipated showdown at Old Trafford. Football Express brings you the post-match analysis of Arsenal's first win at Old Trafford since 2006.
The Match, and Post Match Analysis:
Arsenal came into the match on the back of inconsistent displays. The Gunners had lost their last two matches in the Premier League but won both their Europa League fixtures.
Manchester United on the other hand were on a 4 match unbeaten run which included high profile victories against PSG and RB Leipzig in the Champions League.
The match was a slow burner but it was evident that Arsenal's 3-4-3 formation was exploiting the wings of Manchester United who lined up in a narrower 4-3-1-2 formation. The exploits on the wing bore fruit when Hector Bellerin raced into United's box in the 68th minute and was brought down by Paul Pogba, earning a penalty.
Pierre-Emerick Aubameyang scored his 2nd goal of the Premier League season and scored the only goal of the game from the spot, as Arsenal held on to secure their first league victory at Old Trafford in 14 years. This was also Arsenal's first away win against any of the top-six teams in their last 30 attempts.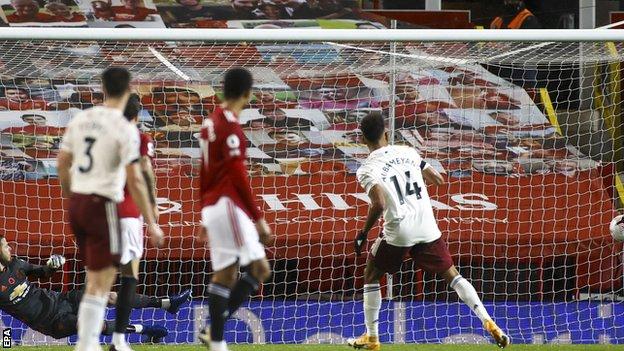 The match was dominated by Arsenal's excellent concentration and work-rate off the ball. In the stats area, Gunners made double the tackles than Red Devils and defended the set-pieces with minimal fuss.
New signing Thomas Party and Gabriel Magalhaes were the stars of the show in that regard, as both put in a near-perfect defensive performance.
Rating the Notable Performances
Thomas Partey (9/10): Arsenal's new signing from La Liga put on a stellar midfield performance. The Ghanaian international was a steel wall in the Arsenal midfield and showed glimpses of Patrick Vieira.
Gabriel Magalhaes (8.5/10): Another one of Arsenal's new signing impressed at Old Trafford. The 22-year-old Brazilian made the most tackles (5) on the pitch and may well be the answer to Arsenal's past problems with centre-backs.
Paul Pogba (2/10): Uninspiring Pogba once again failed to step up to the big occasion, and cost his team dearly by conceding a penalty kick. Frenchman also put in a lethargic display in midfield where he was overrun by Thomas Partey and Elneny.
What it means for Manchester United and Arsenal
The result leaves United lamenting in 15th position, while Arsenal make strides and pull themselves up to 9th. Arsenal have two consecutive home games in the next week against Molde and Aston Villa. They will be looking to build on their impressive display at Old Trafford to get back in top-four.
Manchester United travel to Turkey for their next European assignment and face a tricky away match against Everton in the Premier League.